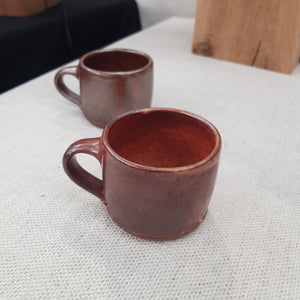 A wheel thrown, hand made cup with a pulled handle.
This cup was made in my kiln in Shropshire. It has a chun glaze which has been fired in a reduced oxygenated atmosphere which really brings out the colour of the underlying clay.
Stoneware clay body fired to 1300 degrees centigrade.
sizes are approximate: Height 55mm x diameter 65mm
Stamped with my makers mark next to the handle.
Although this item can be used in a dishwasher it is recommended to hand wash only to preserve the quality of the glaze.